Content creation can be seriously hard work.
According to Zazzle Media, 65% of marketers struggle to produce engaging content. You know, the kind of content that enhances your reputation, and makes visitors to your website want to subscribe, or even buy.
It's not just a matter of coming up with ideas; but you also have to present the content attractively.
But what if you could find a content format with a proven track record, and make the creation process easy?
Here's the good news: creating an ebook offers you both of those benefits.
In fact, if you're not creating an ebook to market your business, you're missing a huge opportunity to get the attention of prospective customers.
In the US alone, says Statista, ebooks are forecast to be an $8.6 billion dollar business by the end of 2018. And people are reading them, with 20% of readers reading more ebooks than hard copy books.
And although it used to be technically difficult to make an ebook, that's no longer the case.
In this article, we're going to show you how to make an ebook in a simple five-step process that will give you an attractive ebook fast to help you wow prospective customers.
But before we get to how to make an ebook, let's take a look at some of the reasons why ebooks are such a great tool for marketers.
What Is an eBook?
eBook, also known as an e-book or eBook, is short for "electronic book" which uses either a computer, mobile device, or eBook reader (such as Kindle) to view long-form text in a book form. It is made available in digital media, composed of text, images or both.
Why Do You Need to Create an Ebook?
The best reason to create ebooks is that people read and share them. Hubspot, which is a great example of good practice in marketing, uses ebooks as lead magnets. That means they give them away free in exchange for an email address.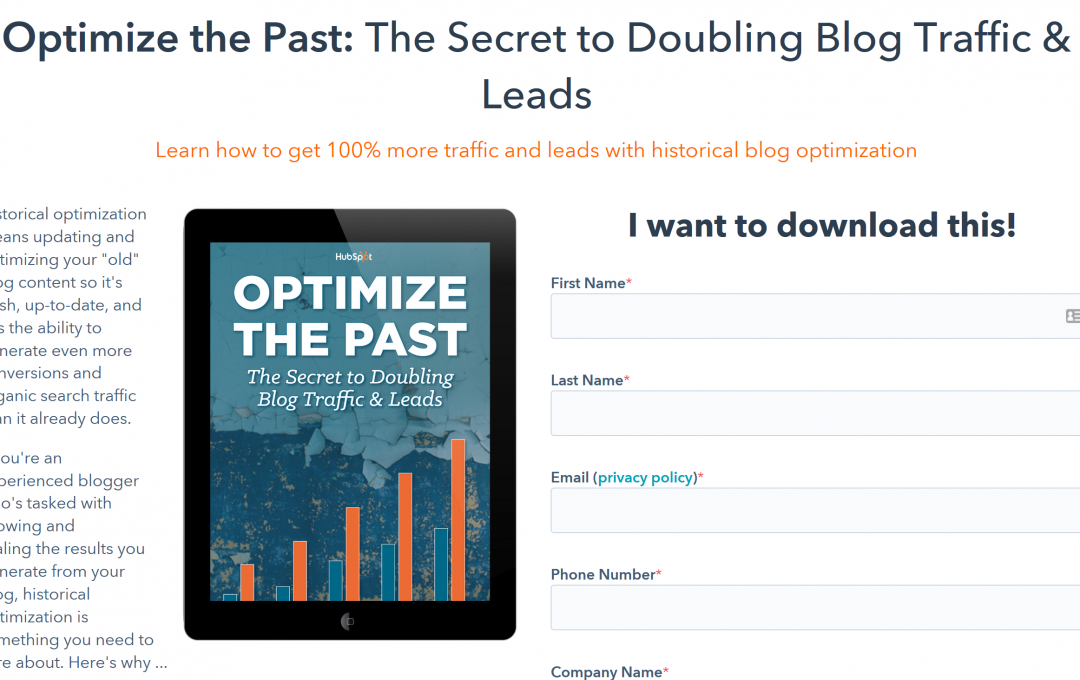 What's the big deal about email addresses?
Most people still read email, so it's a great way to get the opportunity to connect with visitors to your site, and possibly turn them into leads and customers.
This is a pretty successful strategy for Hubspot. Their most successful ebooks get shared thousands of times, and help them generate targeted leads.
Another way to use an ebook is as a content upgrade. The content upgrade strategy is usually used with blog posts, where you give away an item related to the post in exchange for an email address. Content upgrades are proven to help you grow your list and generate high-quality leads.
You know where else you can use ebooks? On Slideshare.
Slideshare's owned by LinkedIn and has 80 million users, making it a great place to share B2B information. A PDF ebook is the perfect format to do that, as it only takes a couple of minutes to upload one there.
And, of course, creating ebooks is an excellent way to establish your expertise and authority, and to give you a resource you can send traffic to. One example is Kudani's branded version of Content Marketing for Dummies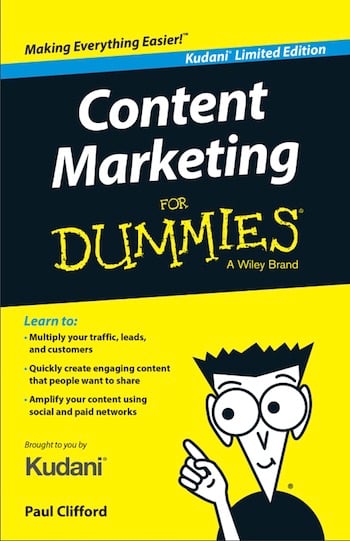 Ready to create an

ebook

as a

lead magnet

or content upgrade?
Here are the steps you need to follow:
Step 1: Choose Your Ebook Topic
The first step in creating an ebook is to figure what your ebook is going to be about. But before you get to that, you'll need to know who you're writing for.
Know Your Audience
If you're already marketing, you'll likely have some idea who you want to attract as customers. This usually involves creating buyer personas or customer avatars. You can do this by combining customer surveys and online research with data from web and social analytics.
This will give you a clear picture of the age, gender and education level of your customers, as well as their key interests., as in this example from Twitter.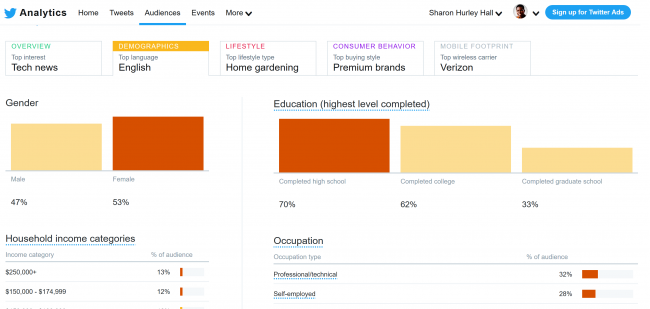 To create your own buyer personas, check out the templates in this guide from OptinMonster.
Find Your Topic
Now that you've established your target audience, it's time to find a topic. There are a few ways you can do this.
First, search the books section of Amazon to see what's hot in the area you want to write about. Type in your keywords, and you'll immediately see the top results. For example, here's what we see when we search for content marketing.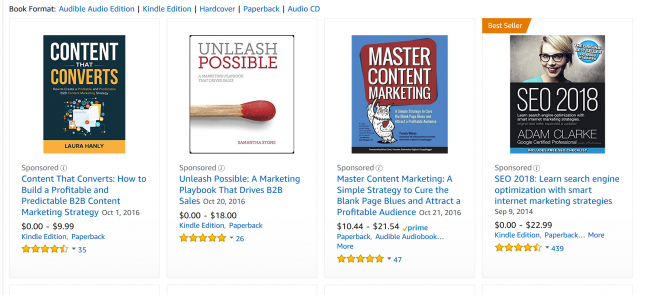 If we say so ourselves, this is a brilliant topic creation hack that lets you use data from one of the world's biggest online retailers to attract your customers.
Tip: Look at the reviews to identify what the readers really enjoy, and also check the 1 star reviews to see what readers are really looking for.
How do you use the info you find? Simple.
Adapt the titles you find for your audience. For example, one possible title adapted from the ones shown on Amazon could be "5 Simple Smart Content Marketing Strategies That Drive Sales".
Another way to figure out what's popular is to use a tool like Buzzsumo to check out widely shared topics. Again, type in your keywords, and you'll see the top ten results. You can adapt these to come up with your own ebook title and topic.
You can also check out your topic keywords in SEMrush. You've got a couple of options here. For example, you can go to their Content Marketing Toolkit, click on Topic Research, and type in your keywords. You'll see related topics on a series of cards, with the top search results for each.
Alternatively, use the Keyword Magic tool in their SEO Toolkit to see keyword search volume and more for your chosen topic.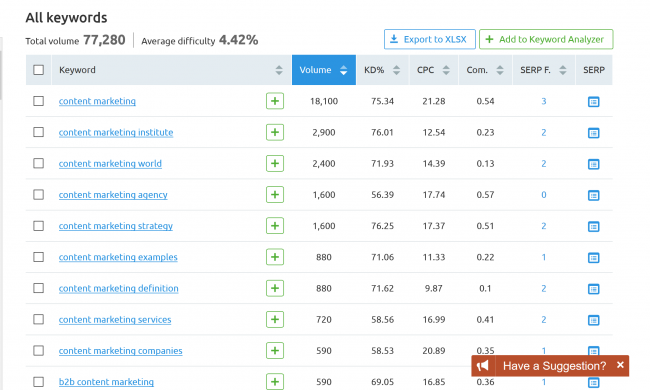 And you can check your own web analytics. Just go to the Home view in Google Analytics and you'll see your most popular landing pages, which are already getting traffic. If any of those relate to a particular topic, then you know your visitors are interested, and can create your ebook around that.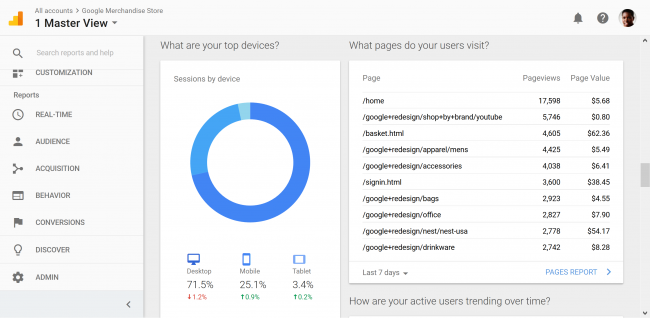 Step 2: Get Your Content
Once you have a cool idea under your belt, the next step is to create the content for your ebook.
Again, you have plenty of options, though some are more difficult than others. Basically, you can:
Create content from scratch
Compile multiple pieces of existing content
Use a single piece of great content
Let's look at some of the pros and cons of each approach.
Create Content From Scratch
One major advantage of creating a completely new ebook is that it's completely unique, which can be a great marketing hook. However, depending on your circumstances, there'll likely be some disadvantages.
For a start, you'll need someone to write it. This could be you, but you would also need to vet and hire a great writer, and that takes time. If you just want to create a quick lead magnet, and start getting leads fast, that's probably not the best option at the start.
Compile Content
Using multiple pieces of your existing content could be a great option. That's especially true if you plan for this in advance, so you have multiple blog posts that neatly fit together to make a larger ebook. If not, then you'll need to edit existing content to make it fit together. This can be time-consuming, though you'll end up with a high-value resource that wins you business.
Create an Ebook From a Single Post
By far the easiest way to make an ebook is to use one excellent piece of content as your source material. If it's already popular and getting traffic, then you know visitors are interested, and you'll be able to create an ebook in two minutes with a tool like Designrr's ebook generator software.
Whichever way you plan to create the content, plan the project in advance. Having an outline can stop you from getting writer's block, and gives you an easy way to check you've covered everything when the project is finished.
As a minimum, your outline should include:
A title, or several title options
Starting point
The main points you want to make
Supporting data for your points so the

ebook

is

authoritative

The conclusions
The planned call to action
The call to action is crucial, as it's the bit that will get your readers to take the next step.
Here's a guide to using outlines for content creation from Search Engine People.
How long should eBooks be?
There is no perfect eBook word count or page length. It all depends on the audience and subject. Generally, as long as it completely covers the chosen topic and successfully educates readers, there is no reason to worry about the length. If you can write a reasonably short eBook that covers the details you need the better off you are. Be concise and to the point.
However, depending on your niche here are some average word counts based on book types:
An average book (a physical book): 50,000-110,000 words
Short stories: 1,000-7,500 words
A young adult novel: 70,000-90,000 words
Non-fiction e-book: 10,000 words
B2B eBook: 2,500 words
Get Your eBook Proofread
Next you want to have your eBook read by someone that is not afraid to give you constructive criticism. Ideally, this should be a competent editor or a qualified person in your field, someone who can give you honest feedback about your writing style and the execution of your ideas. Check out some of our proofreading tips.
Before you share your eBook use online proofreading tools like Grammarly to get rid of all the spelling and grammar mistakes. That way your proof-reader/editor can concentrate on whether the content solves the problems you are addressing and verifies that the thought process is logical with a consistent flow.
Step 3: Choose the Right Ebook Format
There's one last decision to make before creating an ebook. It's about the right format for your ebook. As always, you have lots of choices.
Until recently, PDFs were the preferred format for delivering ebooks, and they're still pretty popular. That's because they're easy to create and worked well on any PC platform. Of course, not all PDFs work well on all devices. And when a PDF doesn't resize or reflow correctly, then readers can have a pretty poor experience. That's something you definitely want to avoid.
Amazon dominates the e-reader space which is why it's important to offer the Kindle format. With the right tool (we'll get to that in a minute) creating a Kindle ebook can be a one-click process, and even simpler than creating it via Amazon itself. So ideally, you'll make your ebook available in the .MOBI format that's compatible with Kindles.
Of course, there ARE other e-readers out there, and they don't use the Kindle-compatible format. To make sure people using those e-readers can access your lead magnet ebook, you'll need to supply the .EPUB format.
And for mobile users, the flipbook is a great option that' looks great, is fully interactive, and is easy to use. Plus, if you care about those things, it uses HTML5 and is fully compliant with the latest web standards.
Depending on your readership you may want to consider some of the following file types:
PDF: The "PDF" extension stands for "Portable Document Format," which is better tailored to eBooks that are intended to be read on a device (digital advertisers, you'll want to note this one).
EPUB: This file class stands for "Electronic Publication," which is more versatile in eBook formats. By that I mean, EPUB eBooks can 'reflow' their content so that it can be tailored on various mobile devices and tablets. This is called agnostic layout, meaning that the size of the screen does not influence formatting. They are especially useful for viewing on smaller screens.
MOBI: The MOBI format emerged from the Mobipocket Reader program that was acquired by Amazon in 2005 but was later shut down in 2016. However, the MOBI file extension is still a common eBook format with consistency across major e-readers. This format is minimal and supports bookmarks, notes, corrections, and JavaScript. Although this format has certain drawbacks, such as not allowing audio or video, it does support DRM, which prevents proprietary content from being reproduced for sale or accessed unlawfully.
AZW: This is an eBook file form built for Kindle, an Amazon e-reader product. AZW files first rolled out to Kindle users in 2007; based on the MOBI file format that Amazon acquired in 2005. While AZW files are based on MOBI, they contain better compression than MOBI files and can be used on Amazon Kindle or a tablet with Kindle apps.
ODF: It stands for "OpenDocument Format," a file type specifically designed for OpenOffice, a series of open-source content development applications similar to Microsoft Office.
IBA: This is the proprietary eBook format of the Apple iBooks Author app. IBA files also have the option to convert to the IBOOKS format so that they can be imported directly to devices like the iPad and exchanged directly with others. This format supports video, voice, pictures, and interactive functionality, but is only used for books published in iBooks authors. This is not consistent with other e-readers.
Step 4: Choose Your Ebook Creation Software
Ok, so you've chosen your topic, got your content ready, and know what format you'll use for ebook creation.
The next important step is to choose your ebook creation software. Believe us, the software you choose makes a huge difference to how easy it is to create a content upgrade or lead magnet. Here are some of the features to look for.
Seamless Content Import
First, you'll want to choose ebook design software that makes it easy for you to import the content you have or create. Ideally, you'll be able to create an ebook from a Word document, from HTML or, to make ebook creation really quick, an URL.
Good Ebook Designs
Second, it's also important to have good ebook designs that make your visitors want to sign up. Choose ebook design software with a wide range of ebook design templates that you can customize to meet your needs and match your branding.
Factors to consider:
Use the right colors: Ideally, you want to match your brand colors to ensure consistency and cohesion.
Add visuals: Visuals help to highlight important points within specific sections of content. Do not add images for the sake of just filling space. The visuals should help to enhance the reader's understanding of the material.
Easy Editing Tools
Third, you have to be able to edit and format imported content. If you suddenly decide to switch two paragraphs round, you don't want it to break your ebook. And you want it to be easy to add a call to action or social media buttons.
Export in Multiple Formats
And last, the software for creating your ebook should let you export the finished product in any format you want. That ensures that you always have an ebook in the right format, no matter what your audience uses to access the content.
You won't be surprised that Designrr offers all these advantages, and many more, so in the next step we'll show you how to create an ebook in 2 minutes with Designrr.
Step 5: Create Your Ebook
The final step is actually creating your ebook. Here's how you do that.
Import the Content
First, name your ebook and choose how you will import your content.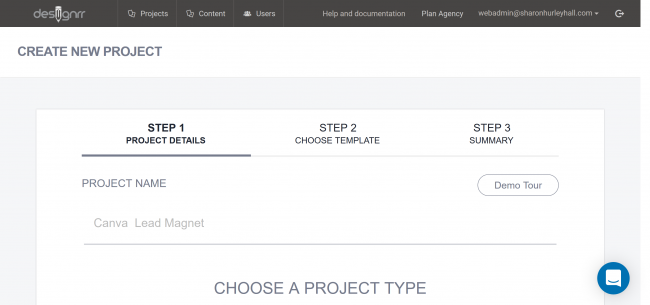 You can import from Word, from a PDF, or from Facebook. Or you can create a blank project.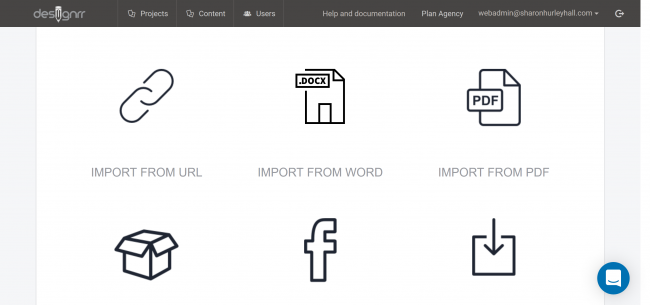 But there's an even quicker way. If you've ever wondered "how can I create an ebook from my website?", we can help. Just use the URL of an existing blog post, press the Import button, and some behind the scenes wizardry will help you create an ebook in two minutes or less.
Choose an Ebook Design Template
Next, choose a template. There are plenty of ebook design templates to choose from (and they're customizable), including plain covers and those with images. You can preview any template to see how it will look on the web or as a PDF.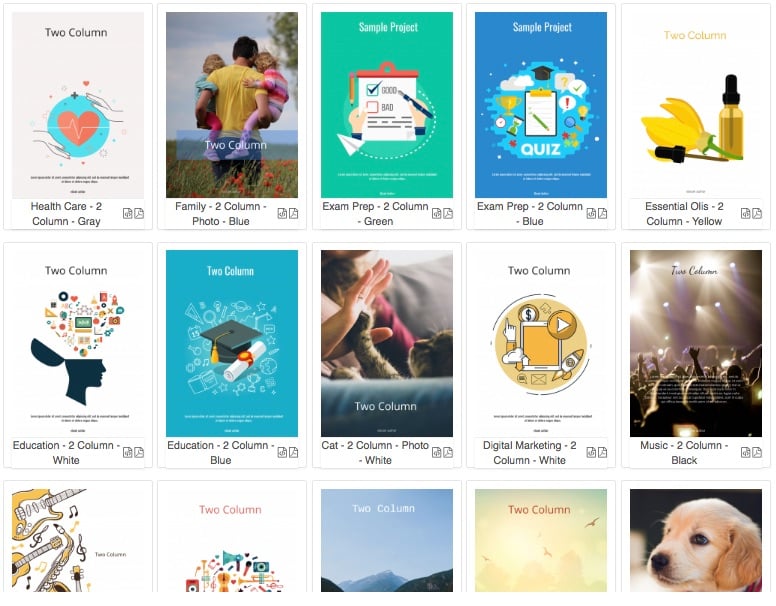 Tweak Your Design
Press Next again to go to the Designrr builder.
This is where you can tweak the design. Common tasks include:
Adding an author or company name
Removing or replacing

images

Editing the header and footer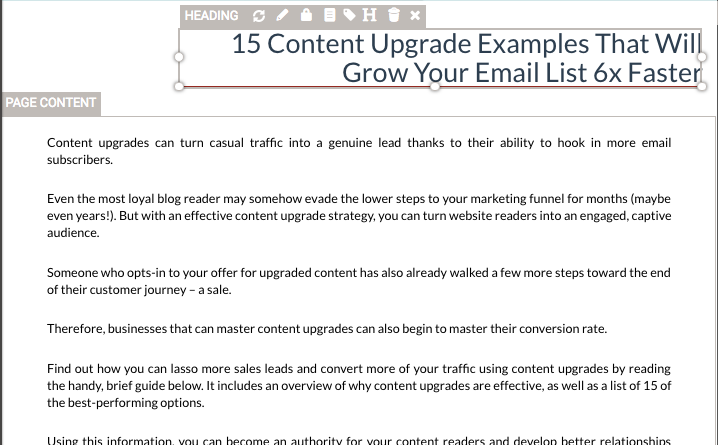 To edit any element, just click on it. You'll be able to type to replace text,. You can also use the sidebar menu to add new elements, such as text, and images.
You can also easily rearrange elements on the page via the drag-and-drop interface. Save changes as you go along via the menu buttons at the bottom left of the builder.
Export Your Ebook
Once you're done, it's time to export your e-book in the chosen format. In just a couple of seconds you have a finished ebook. And don't worry; if you want to make more changes, it's easy to edit your ebook design and export it again.
See, that didn't take long, did it?
Bonus Tip: Add appropriate calls-to-action within your eBook.
Now that your content is written and all the key visuals are in place, it's time to refine your eBook for conversions. A call-to-action, or CTA, is a group of words put together to tell the reader to take action. The reader is asked to click a button or specific text and then is taken to either your company website or a landing page where they are offered a product or service that you are selling.
Your readers are likely to convert to leads in order to get their hands on your eBook to begin with, so why not use the CTAs in your eBook to drive them further through your sales funnel.
Bonus Step: Promoting your eBook
Create a dedicated landing page for your eBook
Your eBook should be available for free on a landing page of your website. A landing page is a web page that promotes and describes your offer. It includes a form that visitors need to fill in with their contact information to access the eBook. This is how you turn your visitors into leads. In some cases, it is where your sales team can finally connect with potential customers.
Don't want to create a landing page, but want to convert certain parts of your website for maximum conversions? Try this method.
If your landing page has been set up and you're ready to offer your eBook, you can start to advertise it across various marketing platforms. Here are five ways that you can do this:
Promote your new eBook on your website (via popups, sidebar widgets, etc.)
Promote your eBook through your blog articles
Leverage paid advertising
Build co-marketing partnerships
Promote it on social media
If you want to learn more on how to promote your eBook, you can read about it here.
When your eBook is introduced and marketed through the various media platforms, you want to also put in place marketing analytics so you can evaluate the effectiveness of your live product.
For example, you should set up analytics for your landing page. This will give you information on how many visitors have downloaded your eBook and become leads. Furthermore, you want to know how many of those people have actually converted into customers.
Pro Tips for Using Designrr For Ebook Creation
Here are few tips that'll help you get more from using this ebook creation software.
First of all, Designrr autosaves your work to your browser. That way you won't need to worry if you lose connectivity or get called away in the middle of editing.
Second, Designrr stores version history. This makes it easy to go back to a previous design if you really mess things up (though it's so simple, we're pretty sure you won't.) To find this, go to your dashboard, and check out the project menu where it says restore.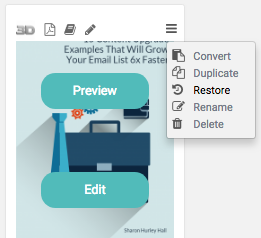 Third, use the settings in the left sidebar menu to integrate marketing tools like social media sharing buttons, and to create a call to action.
And finally, you can quickly generate a 3D cover to use to promote your ebook from the dashboard view.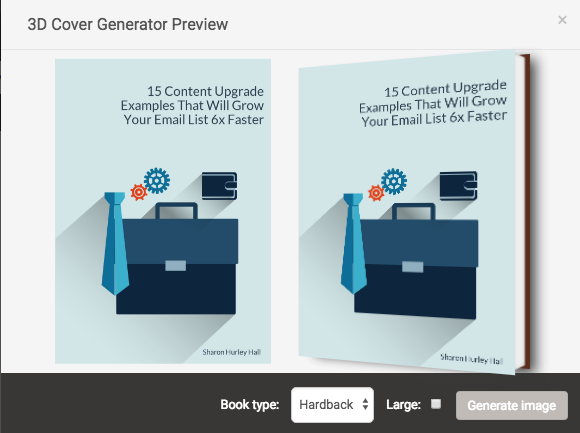 That's it!
We've been able to go from blog post to finished ebook inside two minutes, which is pretty darned quick. Think you can beat that?
Not using Designrr yet? Get started today and make ebook creation easy.
FAQ
Q. What is Designrr?
Designrr is an eBook software that imports existing content from various sources to create an eBook. It is easy to use and has over 100 professionally designed templates to choose from. Use the drag and drop editor to style your eBook and add elements like CTAs, images, and shapes. Download the finished eBook and share with your audience.
Q. Why Designrr is the best eBook software?
If you're looking for a software to create your eBooks, Designrr is the best option due to its ability to import almost any content. You can import blog posts, podcasts, videos, and PDFs, or even combine sources to create your eBooks. Whether you are creating an eBook for lead generation or selling it on Amazon, Designrr simplifies the process for you.