Whether you're a content marketer, salesperson, podcaster, small business owner, coach, or anything in between, you need to be producing content across a wide variety of platforms. While the traditional model is to hire that work out, it can be extremely costly and time-consuming with no guarantees of a job well done.
Thus, content conversion platforms, which allow you to transform content into different formats, were born. Two of the leading ones are Designrr and Issuu, both operating on a similar model but having large distinctions.
Here we'll break down what each platform is, how it's used, and the main differences between the two, ultimately highlighting which one is better overall.
What Is Designrr?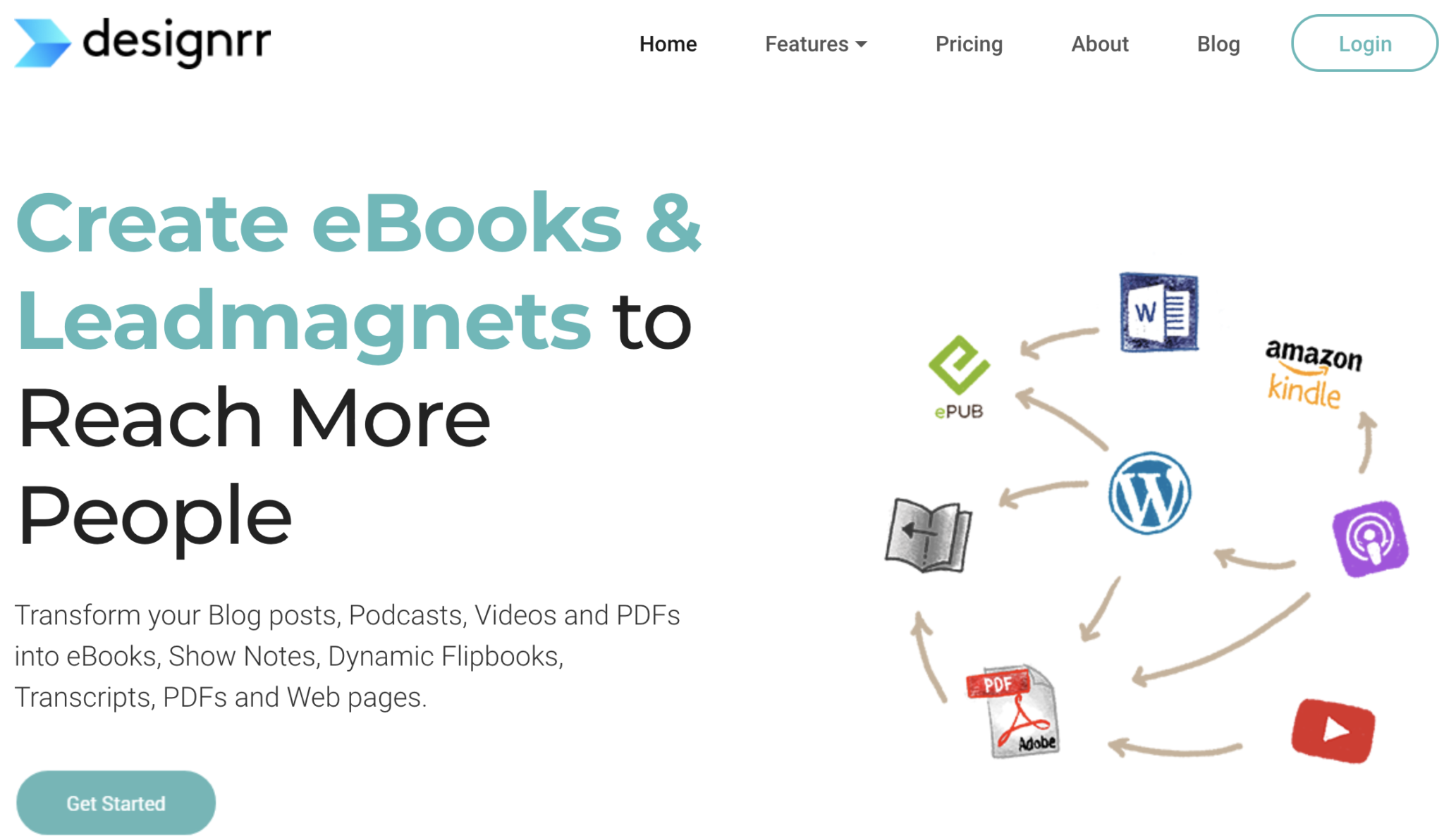 Designrr is an all-in-one platform used for creating ebooks, flipbooks, PDFs, web pages, show notes, and video transcripts from your uploaded media. This media can include videos, podcasts, PDFs, blog posts, and even Facebook posts.
After uploading your content, Designrr extracts it and turns it into your medium of choice. You're able to upload a variety of content, from direct URL links to social media posts and more.
Since Designrr is cloud-based software, you can use it across devices without downloading anything to any one device.
How Does Designrr Work?
Step 1: Upload Content
You can select from podcasts, videos, URLS, social media posts, and more. Pick the content you want to upload and convert. After choosing the content you want to upload, you'll create a new project.
Step 2: Import
If you're on the basic Designrr plan, you'll be importing directly from a URL. Designrr now gets to work uploading your content for conversion.
Step 3: Project Details
After your content is uploaded and turned into an ebook (or whichever format you choose), you'll add a project name and select your template.
Step 4: Get Creative!
Designrr allows you to customize your project based on the theme you select. You can alter colors, add elements, insert images, and much more. If you're more experienced, you may decide not to use a template, but for most people, a template is the way to go.
Step 5: Publish
Once your project is polished to perfection, it's time to publish it and let the wider world enjoy it. You can publish it to any website, as a Kindle eBook, ePub digital book, PDF, or flipbook.
What Is Issuu?
Issuu is a digital discovery and publishing platform that allows you to upload, share, and sell content. By uploading content you've already created, Issuu enables you to convert those into social media content, embeddable flipbooks, articles, magazines, and more.
Note that with Issuu, you can only upload documents (PDFs, images, and text) in the following file-supported formats:
Word .doc,.docx
PowerPoint .ppt
OpenOffice .ods,.odp
WordPerfect .wpd
Rich Text Format .rtf
You won't be uploading URLs into Issuu.
How Does Issuu Work?
Step 1: Create Document For Upload
Since Issuu doesn't upload directly from URLs, you'll need to turn your content into a document (PDF, Word, and PowerPoint documents are common). From there, upload it into the platform.
Step 2: Let Issuu Do Its Thing
Issuu then begins arranging the content into readable content of your choice, from flipbooks to magazines to social media content. The site makes sure the content is optimized for mobile and desktop.
Step 3: Customization
Customization with Issuu is limited. However, you can alter the cover of your publication.
Once your document is ready to publish, you can share it in a few ways. You have the option of sharing on Instagram and Facebook stories, Pinterest media, and more.
Comparing Designrr vs. Issuu
Both Designrr and Issuu serve one core purpose: making it easy to create content. However, their scopes and some other additional features are very different.
Capabilities
Uploading: Issuu is more limited in its upload scope. With Designrr, you can upload content directly from URL links. For instance, if you have a published blog or social media post you want to convert, you can upload its link directly. With Issuu, you'll need to convert that content into a document (usually PDF or Word) for the software to convert it.
Conversion: The types of content the platforms convert your documents into are different in scope. Issuu can convert your materials into social media content, digital magazines, lookbooks, brochures, GIFs, flyers, and other digital content.
Designrr is more limited in its scope on the conversion side. With Designrr, you can convert your content into PDFs, ebooks, video transcripts, web pages, and blog posts only.
This highlights a key difference between Designrr and Issuu. Issuu is more focused on creating web 2.0 type content, like social media posts and digital magazines. Designrr is focused on helping people create more in-depth, high value content, like ebooks and lead magnets.
Customizability
Designrr is highly customizable, allowing you to tweak many elements of your converted content. You're able to edit background colors, styles, images, fonts, and text.
You can also search copyright-free images within Designrr from Unsplash or Pixabay – or upload your own – to embed in your work. Once images are uploaded, you can crop, resize, tweak color, and more within Designrr itself.
Lastly, you can embed quote sections, lists, tables, and other elements into your work with Designrr.
Once your work is uploaded to Issuu, you can select a template for the converted medium. However, you can't do much else to customize the visuals of your work with Issuu. This is one of the main gripes regarding Issuu.
Pricing
Designrr
Designrr doesn't have a free plan, although all their paid tiers offer 7-day free trials.
Standard ($29 monthly or Special Offer $27 Lifetime)
This plan gives you access to different features such as 100 project templates, 922 Google fonts, unlimited use of copyright-free images, flipbook generators, and more.
You'll also be able to upload from more than just URLs. This add-on allows you to upload from PDFs or Facebook pages.
Lastly, you can upload from URLs, Word, and Google Docs.
Pro ($39 monthly, the have a $97/yr offer for customers)

If you want the ability to generate flipbooks from any PDF or Facebook page, this plan allows you to do that. You also get access to over 200 cover designs and more than 300 project templates.
You can upload from the same mediums as Standard with the addition of PDFs. Further, you will be able to export ebooks to ePub, iBooks, and Kindle.
Premium ($49 monthly)
On top of Pro features you also get:
Automated transcription – Stunningly accurate transcription from Videos, Audios, Youtube, Facebook Videos.
Dynamic Transcripts – this feature not only transcribes your videos, but also takes a screenshot of each scene change.  It aligns each screenshot with the timestamp of video – so that when the final ebook is produced, clicking on a scene – will take the user direct to the correct point in the video.
HTML export for website embedding
Business ($99 monthly)
Like Premium, you get access to transcription, but up to 8 hours. Otherwise, the features are the same as Premium.
Agency Premium ($249 monthly)
Meant for larger enterprises, Agency Premium offers access to 25 transcription hours, 5+ users, 24/7 support, an onboarding concierge, and all features from Business.
Issuu

Free
The free plan, as is expected, is extremely limited. One user can publish content online and create shareable stories, but the features stop there.
Starter ($19 monthly)
Starter offers all the features of the free plan, but you can also insert content into your own website more easily.
Premium ($40 monthly)
With Premium, you can add three users to your Issuu account. You can also better customize your content's branding and reading experiences, embed videos, monetize your publications, remove ads, and enjoy analytics access.
Optimum ($269 monthly)
Made for large businesses, Optimum grants 25 users access to your Issuu account. With this plan, enjoy access to priority phone support, collaboration with teammates on documents, unlimited private sharing, and unlimited API access.
Support
Designrr has extensive customer support for its users. It provides access to an FAQ forum, email and help desk, phone support, and chat. The platform is upfront with providing its phone number and registered company addresses.
Issuu is harder to get in contact with. The only support they have is an email and help desk and FAQ forum. While Optimum (most expensive plan) users get phone support, no other users do.
Training
Designrr's training site includes videos, tutorials, and FAQs.
There are 26 videos available on topics such as deleting pages, locking and unlocking pages, adjusting paragraph spacing, managing table of contents, inserting a page break, and more.
Designrr offers 75 articles on subjects such as adding backgrounds to pages, optimizing images, changing your template, importing from Google Docs, interlinking between pages, and more.
Issuu has support articles divvied up by category, including distributing content, publishing content, statistics, account and billing, and more. They also host webinars and weekly workshops for users who need more personalized support.
Designrr: Pros & Cons
Pros:
Large variety of themes for different industries
More pricing plan options
Content can be built from scratch, so there's no need to depend on Designrr's software
Upload to ebook marketplaces directly from the software
Many useful support options, from videos to tutorials to a phone number
Easy drag-and-drop interface that's beginner-friendly
Content can be imported from video and voice recordings
Cons:
No free version
There can be occasional errors when making changes
The menu items for design changes can have a learning curve if you want to alter your upload more significantly
Issuu: Pros & Cons
Pros:

PDFs are easy to upload
Document cover is customizable
Pinch and zoom offered on mobile devices
Offers a free plan
Lets you convert documents into unlimited publications
Publications optimized for social media platform sharing
You can insert paywalls on your publications
You can make your content searchable
Embed Issuu publication into your website (but not for free!)
Support boasts an impressive knowledge base and can answer most questions
Cons:
Depending on which device you're using to view content, the reading experience can be disappointing
Free version is limited
Readers often have to sift through a lot of content to find what they're looking for due to imprecise search
You can't get chat or phone support unless you're on the highest tier
Which Is Better?
If you want to create social media content or mobile optimized stories, then you'll want to use Issuu.
Otherwise, Designrr comes out on top. There are more pricing plans to choose from that are less costly, from $29 per month for the lowest tier all the way up to a comprehensive $249 per month plan.
Designrr also allows you to customize your work to a large degree, from altering background color to inserting images to changing text. With Issuu, you can select templates and cover images, but that's all.
Additionally, Designrr offers phone and chat support which makes it easier to get the help you need. You aren't stuck going back and forth via email or looking on support boards for answers that may not be there.
You can upload content to Designrr from URLs, so there's no need to convert your blog posts, social media content, or anything else into a document for conversion.
Final Word
While Issuu and Designrr are both conversion platforms that allow you to transform your content into new mediums, Designrr comes out on top as the more customizable and versatile platform.