Everyone is focusing on video marketing. The demand is growing, 85% of all internet users in the United States watched online video content (Statista). And Wyzowl 2019 report shows that 87% of marketing professionals use video as a marketing tool. So, before you hit the upload button, take into consideration as to why you need to transcribe your videos.
What's the purpose of transcribing your video to text?
Maybe you're asking why you would want to transcribe your video? You're probably interested in video content marketing because you know the power of video marketing. Here are some video marketing statistics that you may not know:
Viewers retain 95% of a message when they watch it in a video, compared to 10% when reading it in text. (Insivia)
Video increases organic search traffic on a website by 157%. (Conversion XL)
Video marketers get 66% more qualified leads per year. (Optinmonster)
Apart from creating video and focusing on video marketing with just video alone, there are numerous benefits and requirements regarding how you post your video. Transcription software needs to be part of your video marketing efforts to truly reap the benefits.
In fact, if your video blog has captions you'll have higher engagement rates. Videos with captions have 40% more views and the chances of a viewer watching your entire video increases by 80%.
Another fact, here's a study from Instapages regarding how effective captioning really is:
Average total view time was 5% higher on the variation with captions, and it was watched by 3% more viewers.
The average reach of the captioned video was 16% higher than the one without.
Reactions to the video were also higher on the version with captions, by more than 17% on average.
Average shares dropped when captions were removed, by nearly 15%.
Average video views were a little lower without captions, by about 4% — but 10-second video views were significantly lower — nearly 18%.
CTA clicks fell by 26% when captions were removed.
Who benefits from using video transcription software?
Here's some content you need to consider for transcription:
Live Talks
Presentations,
Events
Conferences
Question and answer sessions
Public relation stunts
Radio and Television (Required)
Commercial advertisements
Full television or radio presentations
The appearances on radio or television presentations
Podcasts
Complete podcasts
The guest/interviews on your podcasts
Video/Audio Music
Lyrics
One-on-one (live) performance
Others include;
How-to guides/Explainer
Landing page videos
Product Reviews
Case Studies/ Testimonials
Tutorials
Documentaries
Interviews
Webinars
Yep, pretty much any and all types of video can benefit from video transcription. Better yet, let's go deeper with our 9 reasons why:
1. Prepare for the future of video marketing
Video marketing is growing. 81% of businesses use video as a marketing tool — up from 63% over the last year. (Hubspot). And by 2021, Cisco says, video will represent 82% of all internet traffic.
Take a step back and let's really look at the numbers, feels like there's something missing here.
Oh yes! let's not forget the others…
72% of customers would rather learn about a product or service by way of video. (HubSpot) What about the 28%?
59% of executives say they would rather watch a video than reading text. (Wordstream). What about the 41%?
65% of people use YouTube to help them solve a problem. (Google) That's 35% of the people being left out.
Do you see where I am going with this? If video marketing is the way to go, what about voice search?
65% of 25-49-year-olds speak to their voice-enabled devices at least once per day (PwC).
Half of all online searches will be voice searches by 2020. (ComScore). That's half of 3.5 billion of Google searches which are made every day. (Internet Live Stats).
How will you rank for your videos for voice search?
62% of businesses haven't yet optimized for voice search. With video marketing on the rise, more and more videos are being uploaded. You'll be competing with millions of other videos and Google will update their algorithm to enhance the user search experience. They recently announced how you can add structured data to your how-to article to tell Google that your article is a how-to article.
By 2020 there will be close to 1 million minutes of video crossing the internet per second. (Cisco).
Sounds familiar? Do people still buy real books? Do people still search using their desktop computers? Use Google search? Read? Information? While everyone is trying to focus on the future, you'll want to future proof your marketing efforts as well. Without properly setting up for the future, you'll be bundled up with the rest of the crowd. So, ask yourself this, how can you stand out as being the best?
2. Increased SEO traffic
SEO is the way you can future proof your video marketing efforts. 93% of online experiences begin with a search engine, and that's with 3.5 billion searches every day.
That's important if you want your video to shine across all search engines, whether it be on YouTube, Vimeo, Google Podcast, iTunes, SoundCloud, Google Search, Yahoo, and Bing. This is crucial since a staggering 71.33% of browsers don't go beyond the coveted first page of search tool results.
The text transcription of any published audio/video like YouTube or Podcast helps to boost your search engine optimization (SEO) efforts. It gives the context of what the video is. Whether it be uploading to your own site's blog, or providing more context using transcript or in the description section. The more content you provide, the more search engine crawlers can help define your videos better.
The crawling of images, audio, or video data cannot be done the same way search tools crawl text contents. Images are indexed based on the surrounding content, alt text, and titles. Video and audio is indexed and ranked based on the title, meta description, schema structured data and a brief description.
There is no assurance that your content will read or understood if you limit the amount of data search engine crawlers can crawl for that specific content or page.
Non-text materials, including videos, are not supposed to be used to present content that you wish to be used for indexing. Without text transcription, and in a similar case with alt text, search engines would have less data where they can infer what you are talking about. Here is a direct quote from Google's very own Gary Illyes Twitter account:
Imo if the text around the image is relevant, leaving the alt attributes blank is sorta ok. Search engines would absolutely have less data from where they can infer what the image is about so at least in some cases that might have significant impact on Google Images traffic.

— Gary "鯨理" Illyes (@methode) May 29, 2019
Transcription allows search crawlers the ease of access to your text content and as a result, direct more organic traffic to your site. Therefore, you need to use video transcription software to enable search crawlers to locate your branded keywords which form the foundation of your ranking. Through transcription, your video content can be positioned better on YouTube. Possibly, providing a dedicated page for that transcription and link it in the description of the video or audio.
7 out of 10 marketing professionals are optimizing video for SEO.
A study with This American Life (TAL) proved that adding transcripts boosts SEO. Search engines can't watch videos, but adding transcripts allows search engines to crawl the full text of your audio or video content so that is can be properly indexed. The number of unique visitors who discovered TAL through organic search results increased by 6.68%.
They also saw a 3.89% increase in inbound links directly attributable to the transcript pages. A separate study by Discovery Digital Networks showed that YouTube videos with captions had 13.48% more views in the first two weeks and 7.32% more lifetime views, as compared to videos without captions. Long transcripts can be paginated and optimized for specific keywords to further optimize search rank.
However many video transcripts can be boring to read on a simple blog post.  It's important to add images, styles, and formatting to break up the transcript and make it read like a real blog post.
Designrr can do this automatically by extracting screengrabs from the video and inserting them into your transcript at relevant points.
Related: 3 Uber sites to share your ebook for traffic and SEO
How do you get more leads and traffic to your business? Transcribing your video content to text enables you to use the same content for different purposes, for example, creating a high converting lead magnet, that can help drive more traffic to your site and grow your email list.
You can either repurpose your content to reach out to users based on their preference. Create more refined content such as an ebook. Transcripts can be transformed into other formats for you to spread the same message.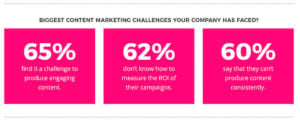 Research from Zazzle Media reveals that 60% of people find it hard to produce content consistently.
The process of coming up with quality videos consumes a lot of time, but the use of video transcription software enables you to use the content for other purposes such as:
Blog

Posts
Ebook, Word or PDF Downloadable

content

Email marketing
Infographics
Social network posts
Here's a nice breakdown of what content types produce the highest conversion rates by Vennage:
And if you want people to share your content type, here are average stats based on what you create:
OKDork's data shows blog posts and infographics are among the most shared content online.
This is what we call content upgrades. The possibility of creating different types of content upgrades to help generate leads, which translate into more traffic.
We've written an article regarding the different types of lead magnets you should be using for your business. Or learn how to create a stunning lead magnet with Designrr.
4. Global outreach through the ease of translation to other languages
Reach a 10x larger audience by translating your transcription. In the year 2018 alone, there were about 1 million international students enrolled in the U.S. For those who are not native speakers of the English language, transcription comes in handy for the ease understanding of lectures, web-based seminars among other video-based study materials.
Getting your video content transcribed is the first step in creating subtitles in foreign languages. In today's global world, the Internet is at the center of it all. A whopping 80% of YouTube views coming from outside the US and eight of the top 10 countries with the most YouTube users are non-English speaking countries.
5. It's all about options and user preferences
85% of Facebook videos are watched without sound. With regards to time, locality, or even personal preferences, not every visitor is bound to watch or listen to your video contents on every visit. The surrounding can be noisy, maybe they forgot their headset, or they just prefer written to video materials.
However, people on a tight schedule might be in urgent need of particular information; probably, there is no sufficient time to listen to a 30 minutes-video, maybe they're using playback speed of 1.5x or a faster speed reader. Therefore, transcription enables your visitors to have convenient and reliable access to your content.
Any loud background noise associated with your video, mumbling, or strong accents might make the dialogue in your video hard to understand. Captions can help clear up any confusion in what people are saying.
You need to bear in mind that if you want a high-quality transcription in return, you need to provide high-quality audio as well. To avoid incurring additional costs as a result of the extension of transcription time, you must ensure that the sound quality is free from distortions.
But situations do occur and you've recorded an amazing content and don't have time to re-record or salvage it. You can warn your viewers ahead of time and provide an explanation with a caption so the transition and the noise don't throw people off.
It's your job to make sure people continue watching your videos or at least be engaged in other ways. Creating a poorly quality transcript or caption can lead to:
Spoiling the

user

experience

and get thrown off with the words, driving their attention away
Violate FCC rules regarding caption

quality

and accuracy
Damage you or your brand as providing low-

quality

content

and lose trust, credibility or rapport.
Lower your engagement and over ROI for your video.
Taking the time to accurately transcribing can be a benefit to the reason why you need it.
6. Helps to enhance your visitors' experience which increases your content engagement
The transcription content helps to improve the general experience of the visitors to your site or your YouTube or Podcast platform. Besides, the transcript helps the audience in finding a section of the audio content they would wish to listen once more.
You can upload your transcript to your publishing platform or provide a link to your website with the transcript.
Also, it gives your audience the choice of consuming your content in their preferable form, which helps them in information understanding retention. It also makes it much easier for the users to share with others and enhance the likelihood of revisiting you to experience more.
Blog posts incorporating video attract 3x as many inbound links as blog posts without video.
Where both video and text are available on the same page, 72% of people would rather use video to learn about a product or service (Wyzowl).
Brain Rules reports that people are more likely to remember information when they also see a relevant image at the same time. Provide audio to text transcriptions to help their retention and whatever situation, or preferences the user might have, you'll want to accommodate all and not just a few.
Using a video transcription like Designrr you can create transcription with images, we call these Dynamic Transcripts:
When you want to create an ebook or publish your transcript on your blog, you don't have to make it look boring or plain. With Dynamic Transcripts, we gather snippets of the actual video footage to help bring the text to life.
7. Increase the time visitors spend on your web page
Other than the potential of visitors returning to your site, improved visitor experience translates to more time spent on your website. It helps to reduce the bounce rate because visitors get what they want (transcripts if it is what they were looking for).
Videos with subtitles lengthen the time spend viewing by over 12% and on average, they are 91% watched to the end. That ensures they stay longer on your site consuming the content; and by so doing, it heightens the chances of engaging with the rest of your materials or adverts.
The loading of video contents consumes a lot of data and load time compared to text contents. There's a direct correlation between page speed and bounce rate. As page speed slows, bounce rates climb.
Therefore, the availability of transcripts enables visitors to engage with your content if your websites load time is not fully optimized or if their internet connection is slow.
Additionally, if the video content takes longer to load, then it is much easier for them to click the close button because of the frustration.
8. Enables the ease of your site's accessibility to the disabled
According to the World Health Organization, more than 466 million people in the world have disabling hearing loss.
The hearing-impaired have better chances of engaging your content due to the transcription of audio to text. Lack of transcripts of your video contents can lead you to miss out on the opportunity of reaching the vast market of those who are hearing-impaired but have the potential of consuming your content. You need to note that 71% of the disabled is bound to leave your site if found inaccessible immediately.
You can take your transcription to another level and include captions in the video. That gives the hearing-impaired the options of consuming the content the way it is or watching the video as they read the embedded text.
There are several anti-discrimination laws that were enacted to protect the rights of people with disabilities to access the same resources as the rest of the population. Some of those laws require that videos include closed captions so that they are fully accessible. Closed captioning standards for television and media broadcasts in the US are strictly regulated by the FCC, like the 21st Century Communications and Video Accessibility Act (CVAA)
Many companies have been sued for failing to provide this accessibility to people with disabilities. Closed captioning requirements are written directly into Section 508, and many states in the United States have "mini 508" laws as well.
9. Video transcription software versus manual transcription
One of the most important parts of transcribing is to provide a transcript with a timestamp so you can upload it to your video platform like YouTube. Transcribing your video saves you both time and money.
Unlike the use of manual transcription, which can take hours to do, it's better to automate your transcription so that someone can focus on editing the transcript versus transcribing the whole content altogether.
Traditionally voice to text has been done by teams of human transcribers who charge rates of $3 or $4 per minute, which is an average of 2.35 minutes of transcribing for 1 minute of talking. And that's an average time for the professional transcriber, whereas, It can take 5-10 times the duration of a video to caption it on your own. Most transcription software is done within minutes, with an average cost .10-.25 cents per minute.
Transcription software isn't perfect, it might convert your speech to text that might not make any sense. For example, you might have said, "avoid" but the software might translate it as "a void". We're not saying you should use the software alone, but spending your time and money wisely by focusing on providing a better experience for your users.
If you're repurposing your video for a comprehensive guide, you might want to use your transcription and convert it for more reader-friendly content.
Spend less time transcribing than actually working on the task at hand.
In conclusion
There were more than 9 reasons why you would benefit from transcribing your video to text. Choosing the right transcription software is important. Same as buying a computer, which computer can convert your 4k video the fastest? What type of external hard drive makes sense? What mic provides the best quality. What transcription software can help the most?
Transcribing is never an easy task and is prone to errors. Still, you now know the benefits of transcribing your video and thankfully, video transcription software can help