Podcasting is huge, and getting bigger. All over the world, people are listening to content on the go. And they love it.
So, if you've decided that this is the year to launch a podcast, that's likely a great move.
But here's something you might not know: getting the most from your podcast isn't just about the audio. If you really want to rock podcasts for marketing, you have to publish your podcast show notes.
In this guide we'll show you:
The stats to help you understand the podcasting trend
The reasons it makes sense to publish your show notes
How you can get even more from your podcast show notes by publishing them with Designrr
Let's get started …
Podcasting by the Numbers
So, just how big is the podcasting market? Edison Research says that in the US, 26% of the population, or 73 million people, listen to podcasts monthly.
Between 2014 and 2018, monthly podcast listenership has increased in every age group, including:
30% of those aged 12-24
32% of those aged 25-54
13% of those 55+
Meanwhile, 48 million Americans listen to podcasts weekly, with 21% of people listening to 4 or 5 podcasts a week.
And this isn't just in the US. Econsultancy says 42% of people in the UK listen to more podcasts now than they did a year ago. And in Australia, 17% of consumers listen to podcasts monthly.
Podcast Insights says 80% of listeners listen to most or all of each episode. It describes podcast listeners as "loyal, affluent, and educated". That means podcasts are a great way to build a relationship with your target audience.
That's not all.
According to Social Media Today, iTunes, the world's most successful podcast platform, has more than a billion listeners. Even many of the less popular platforms have a million or more. Ad dollars are following the trend. By 2020, podcast advertising is expected to total $500 million.
The bottom line: podcasting isn't going anywhere. With millions of listeners enjoying the convenience of consuming content at home or in the car, Statista predicts a rise in the audience to 112 million by 2021.
So, it's a great time to launch your own podcast.
Reasons to Publish Podcast Show Notes
As we said earlier, it's a big mistake to ignore podcast show notes. Here's why.
1. Better SEO
Let's start with SEO, which helps people find your content in the first place. The thing is, nobody knows what's inside your audio file. Show notes are the way you tell them.
When you use show notes, you create content that search engines can crawl and index, so your podcast shows up in relevant searches. That can get you more traffic, and more listeners. And when they land on your site, there's another benefit ….
2. Show the Value of Your Podcast
Don't you just hate it when you follow a link to a podcast page, and all you see are three lines of description and a podcast player? When that happens, there's no way to know if it's worth your while to listen to the podcast. Don't do that to visitors to your site.
If you publish detailed podcast show notes, visitors know how valuable your content is. That'll make them want to subscribe, helping you to grow your listenership.
3. Make Content Creation Easier
We've all read the stats that say how important it is to include long form content in your marketing strategy. When you write posts over 2,000 words long, you're primed for:
Better search rankings
More social shares
Increased online authority
Improved viral potential
There's just one problem with that. Writing a 2,000-word blog post is seriously time consuming. You have to invest in researching, writing, and polishing the post.
In contrast, when you create a blog post out of your podcast show notes, the process is easy. Record your content as usual, then have it transcribed to effectively create another content format from your audio file. Speaking of which …
4. Provide Content in Multiple Formats
Show notes let you publish the podcast information in another format. Even though there are so many podcast listeners, there are also millions who prefer to get their content in other ways. Creating and publishing podcast show notes allows you to repurpose your content to target those audiences.
Repurposing also gives your content a longer shelf life, by helping you add evergreen content into your content mix. And, of course, there's the potential for more traffic and online authority.
5. Help Your Listeners
As we saw earlier, not all listeners listen to your whole podcast. Even if they do, they won't always hear everything you and your guests say. Publishing podcast show notes ensures that when the podcast is over, listeners can go back and catch up on anything they missed.
You can also help your listeners by highlighting key points. And you can encourage them to share by creating tweetable quotes as part of the show notes.
And publishing podcast show notes helps those with hearing impairments, too.
Podcast show notes are a great way to collect and collate information on a particular topic and share it with your audience. This enhances your expertise and your value to them. And this in turn makes it more likely that they will subscribe, share, and even buy.
6. Grow Your Email List
One of the areas many marketers struggle with is creating engaging content for their audience. Publishing podcast show notes enables you to do just that. That's because in addition to listening to the audio, your audience can look at the show notes at their leisure.
But there's an even smarter way to use your podcast show notes. Make them available as a content upgrade to entice podcast listeners to subscribe to your email list. That's exactly what Super Fast Business does. Every podcast episode gives the option to download the podcast show notes PDF, sometimes with additional resources.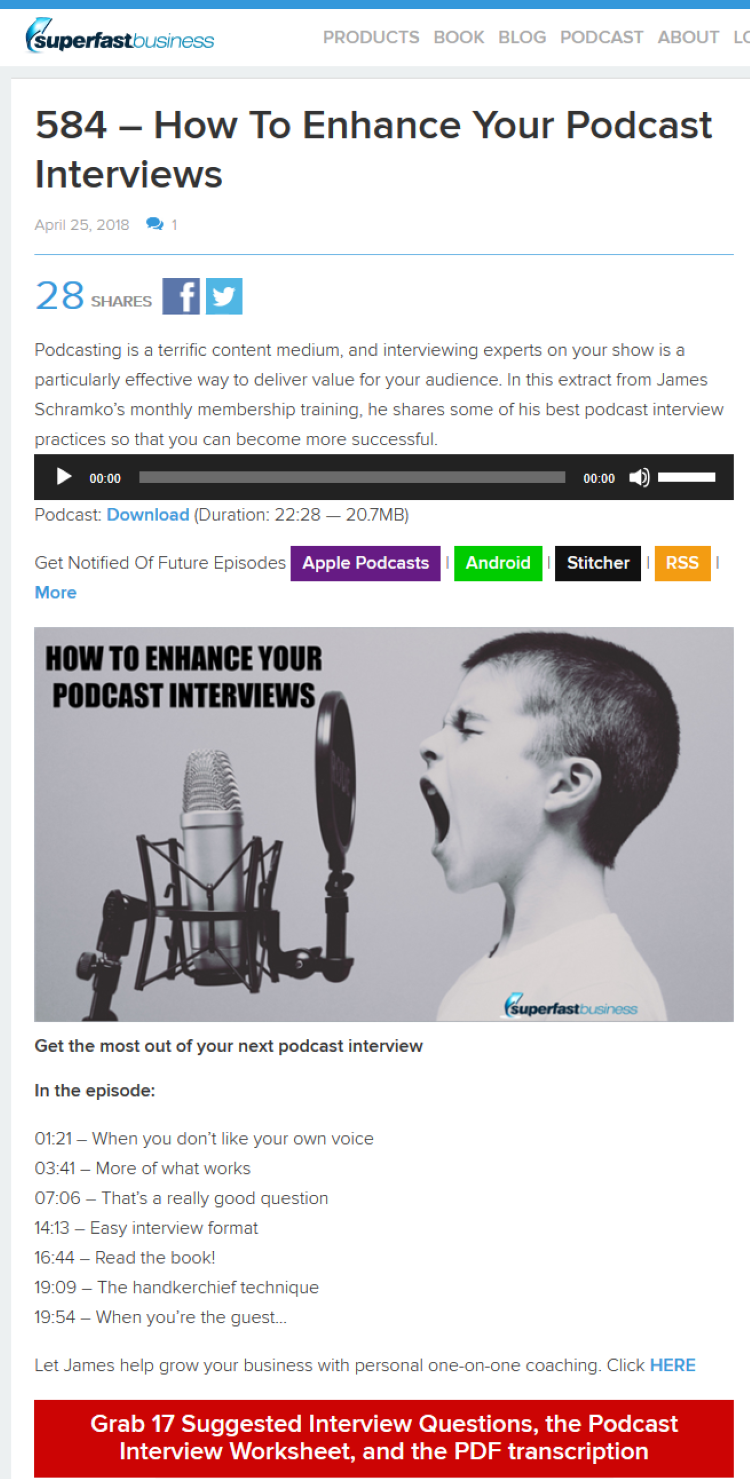 7. Write a Book the Easy Way
There's also a long-term benefit of publishing your show notes. It's one of the easiest ways to create a book on the subject of your podcast. If you plan ahead, you can easily do a series of podcasts on related topics, transcribe the notes, and turn them into ebooks. That's exactly how Tim Ferriss, of 4-Hour Workweek fame, created his book Tools of Titans.
What to Include in Show Notes
So, what should your podcast show notes look like? Here's the minimum information you should include.
First of all, you're going to summarize the episode. This will tell readers who you're talking to, if you have a guest, and what the overall topic is.
Follow that up with a few key points from your podcast. Obviously, this will vary depending on the length of your podcast and the importance of the various points.
Include some of the key things that either you or your podcast guests have said that podcast listeners show notes readers will want to know. Make sure that these are easy to share online.
Next, add links to any websites and resources mentioned. And finally, include different places where people can subscribe to your podcast. Round it out with a call to action to subscribe to your email list so you can share key information about the podcast with listeners and readers.
Just one more thing: if you're planning to turn your podcast into a book at some time, consider providing a full transcript. That'll give you more information to work with when you're ready to create the book.
How to Make Podcast Show Notes
Ready to make your podcast show notes? Use the guidance above to create an outline before the show. Be sure to include some of the key points you plan to cover; you'll probably know at least some of these in advance.
Keep a copy of your outline handy while recording. That'll make it easy to quickly jot down any changes or new points that come up.
Once the podcast is done, add timings for the key points, then you'll be ready to publish the show notes. We'll look at some options for that in the next section.
Options for Publishing Your Show Notes
There are several ways to publish your show notes.
A simple way is to publish the show notes just like any other blog post. However, you won't get all the benefits we listed if this is the only way you publish them.
You can also embed your show notes on the episode page on the podcast hosting site. This will let subscribers see the notes but won't provide all the benefits of content repurposing.
Another option is to publish your podcast show notes as a PDF. That lets people who download the show notes access the document at any time. Plus, once you have the PDF, it's easy to share it with your email list, or use it as a content upgrade. Learn how to make a PDF flipbook.
One of the easiest ways to make your podcast show notes into an attractive product is to publish them with Designrr. This is also a good tool to use if you want to create an ebook from the content of multiple podcasts. In the next section, we'll look at how to publish podcast show notes with Designrr.
How to Publish Podcast Show Notes in Designrr
To publish your podcast show notes in Designrr, log into the app and create a new project.
Name your project.
Scroll down the page and choose an import source. For example, you might choose the URL where you've published the show notes, or a Word document that has the full transcript of your show.
Even better, you can import your podcast audio or video file into Designrr, and it will transcribe the show notes for you.
Click on Import Audio/Video, and you'll be able to choose your podcast or video podcast file.
Press Next, and the file will be added to your transcription queue. You'll get an email when transcription is complete, and it will appear as a draft.
Click the paper icon to create a project from the transcript. You'll be able to edit the transcript before proceeding with project creation.
Next, choose a cover design template. Designrr has dozens to choose from, including a few that are particularly suited for podcast show note publication. All covers are available in single and two column layout and are completely customizable. Click the preview icon next to each template to see how it will look.
Press next and, add a title and description for your podcast show notes PDF. Then it's time to upload it.
After that, you'll go to the Designrr builder where you have multiple customization options. For example, you can:
Add your author name
Edit or remove headers and footers
Add or change images
And much more
Click on any element on the page to edit it. You can also move content around the page with drag and drop, or add new elements via the toolbar menu on the left of the page.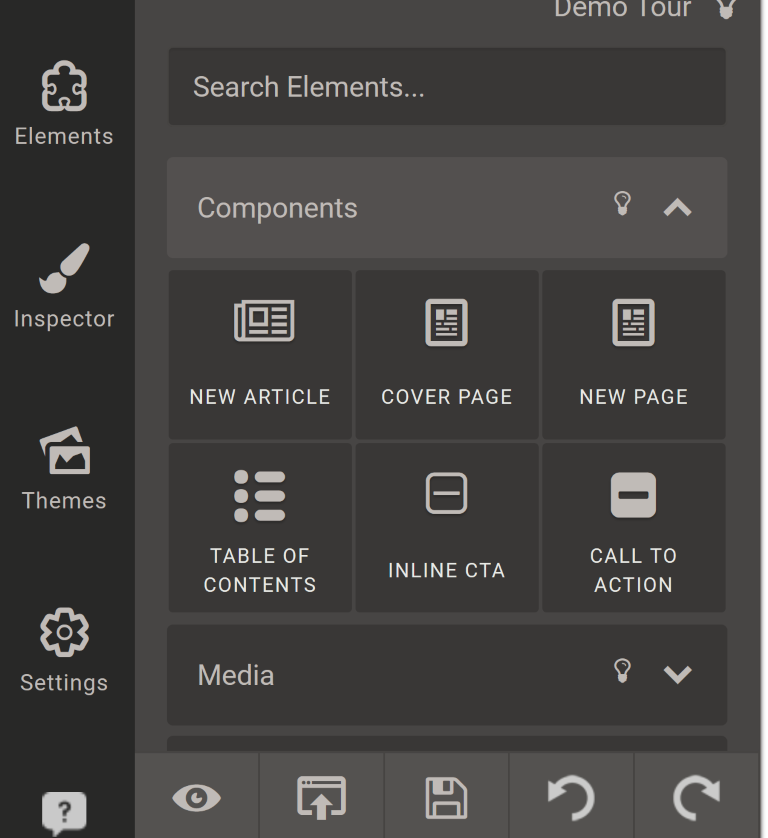 Autosave is enabled by default, though you can also save at any time by pressing the icon at the bottom of the editing menu.
When you're done, just press the export button to export your branded podcast show notes as a PDF. In most browsers, this will load immediately so you can see how it looks. If there's anything you want to change all you have to do is return to the builder, make your changes, and save and export it again.
How to Get More from Publishing Show Notes in Designrr
Designrr has a couple of other features that are useful for this process. For a start, once you've got a podcast show notes design that you are happy with, you don't have to reinvent it every time. Just use the onscreen controls to duplicate the project and then edit details like the title, date and content.
And soon you'll be able to import your audio content directly into Designrr, and have it transcribed. This will automatically create detailed podcast show notes, saving you the cost and effort of transcription and making the publication process even easier.
It's yet another reason why it makes sense to try Designrr today.