Why podcasting?
Statistics show that over 70 percent of Americans are now familiar with the term "Podcast," and about five people in ten have listened to them as well. In 2019, the total number of Americans who have listened to podcasts is at an all-time high of approximately 144 million. This number is a 41 percent increase since 2006. Monthly podcast listeners grew from 24% of Americans to 26% year over year. (Edison Research, 2018). This growing popularity of podcasts is an excellent opportunity for an ordinary person to start podcasting.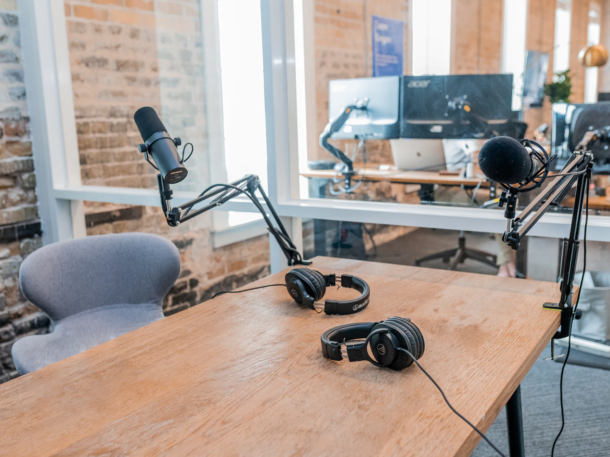 Photo by Austin Distel on Unsplash
There are many platforms out there where you can share your podcasts to the world. Popular audio streaming applications include Spotify, SoundCloud, and iTunes. YouTube, despite being a website for video streaming, still beats the others by far. According to the reports, YouTube alone brought 46% of all listening time on music.
Ok, music I can understand but podcast on YouTube? Well, to help you out with it, here are a few benefits of podcasting on YouTube.
Why YouTube for podcasting?
Photo By Szabo Viktor on Unsplash 
Google bought Youtube for $1.6 billion back in 2006. Since then, YouTube has attracted millions of people and businesses worldwide and is now worth a whopping $100 billion or more. Furthermore, as YouTube is owned by Google, which itself is the most widely used search engine, Google attracts the users to its video streaming site!
Large

Au

dience
YouTube is the second most used social networking site, right after Facebook. About 1.8 billion people use YouTube every month. This figure is about 1/4th of the total world population! There are many reasons why so many people use this website.
Content
According to recent statistics, about 5 billion videos are viewed on YouTube every day. The reason is simple; you find almost anything there. Whether you are looking for biking videos, gaming videos, animals doing weird stuff, or your favorite sports highlights. Everything is available at just one site. You don't need to go anywhere else looking for the type of content you need.
User-Friendliness
YouTube is among the most used website by the younger and the older generation as well. It is all because of how easy it is to use for an ordinary person. It is combined with the most used search engine and does not require any sign up to watch its videos, and they are free of cost. You have access to billions of videos at just one tap.
Regular Updates and Improvements
YouTube never stops listening to its users. There are frequent updates and fixes to help improve the experience for their users, attracting more and more of them every day. They have multiple mobile applications, online sites, and compatibility with the latest technology as well. All these things make YouTube the most reliable and available website available.
YouTube Community
As mentioned earlier, YouTube has over a billion viewers every month. Among them are people who are signed up and can interact with the content makes in multiple ways.
Comments
Due to its vast community, YouTube is preferable if you want to improve yourself as compared to any other website. Typically, audio streaming sites do not have any feedback from the users, except for the likes or downloads. But that is not enough for you to improve your content. YouTube is more like a community. People listen and give feedback in the comments as well. There is no need for them to email you or to search for your other social sites to talk to you. They can comment in the comment section, and you can go through them to improve your content. It is a short and an easy process for the listeners and the content makers both.
Likes and Dislikes
Just like most of the other websites, YouTube also has a like button to show how many people have liked your content. But along with it, there is a dislike button as well. For some, dislikes might be very demotivating, but for others it can be a sign to improve the quality of the content. It is a better feature that is not available on other websites, which gives YouTube an upper hand in providing insights into your content, which in this case are podcasts. You can set your goals with this meter. Begin with a target of 10 likes and go till you hit 1000. Keep on working hard on your podcasts, and soon you will reach the skies.
Although most of the websites allow you to download podcasts, not many will enable you to share them. Even if they do, it will be on limited applications or sites. YouTube, however, gives the user the option to share the videos on other platforms such as Facebook, Twitter, WhatsApp, etc. Once your podcast starts to get shared among people, it will only be a matter of time till millions knows you for your podcasts. Therefore, YouTube is the best platform with the highest probability for your podcast to go viral.
Channel Analytics
You can get a detailed analytics report on YouTube, which is not available on many other websites. If you want to know how many people listened to your podcasts, or how they found it, or how much time they spent listening to your podcasts, the "Channel Analytics" will provide you with the precise details. Let's look into some of the features it offers.
Viewers, Watch Time and Top Videos
YouTube analytics provides the user with precise information about how many viewers did the channel attract over a specific period. It also shows how much time those viewers spent listening to your podcasts. If you want details about each and every detail, to see how your channel is growing or declining, the analytics will give you all the information. You can use this to your advantage as well. For example, improve or change the content of your podcasts if the viewers are declining.
Similarly, if the viewers have started to increase after a specific podcast, foucs more on such podcasts to further attract more audience. Moreover, the top videos also show the most viewed videos on your channel. You can see what kind of podcast attracted the most audience and work on similar projects.
Statistics
YouTube analytics provide you with detailed statistics as well. You can quickly determine in what region is your podcasting the most popular. It also shows the gender and the age bracket of your audience. These stats are pretty helpful, especially for a beginning podcaster, to identify their audience and make content that will attract more of them. For instance, if the audience is between 18-20 years of age, you can record podcasts on motivation for their upcoming phase in life. People listen to what matters and concerns them. Simple as that.
Advertisement Revenue
Not only is YouTube free, but it is also one of the fastest-growing businesses in the world. It allows you to upload content for free, but it also allows you to gather some revenue off of them. Advertisements help the company grow, and every business wants to reach the largest audience. YouTube allows you to add ads to your videos and gives you a portion of the revenue that is generated by them. If you are a beginner, the chances are that you will earn very little.
The reason is that you would not reach a significant amount of people. But as you grow and gather an audience with your quality podcasts, you can start generating higher profits just by uploading your podcasts. Many millionaires started by making content on YouTube with very little money in their bank accounts. Therefore, if you have what it takes, and you love doing podcasts, YouTube is the best platform to make a career.
Content Protection
YouTube goes to the greatest extent to protect the content makers from having their content stolen. If you are worried about people using your content without your consent, or if you have a unique idea that you want to keep for your use, YouTube will protect it.
Content ID
Content ID is a unique feature on YouTube, which allows the copyright owners to take down any content they find which they own. This feature is terrific and prevents others from stealing your content and making revenue out of it. If you want total protection for your podcasts, YouTube will provide it to you. Also, if you find content that is identical to yours, you can copy strike it using your proof and gain all its revenue as well.
Bonus Feature
YouTube gives multiple options to keep viewing content from the same channel. Among many others, people can subscribe to your channel and also turn on post notifications. By doing this, your subscribers will see your podcast on their wall whenever you upload, and some would even receive an alert. Furthermore, if there is a new user that is viewing your podcasts, YouTube gives the option to "view more from this channel" to help them explore what kind of content you upload. These little features might be insignificant to some, but can be of great help to others, especially beginners.
Pro-Tip
Recording and uploading the podcast is simple, and not much of a headache. But there is one thing that attracts a broader audience and is a bit more difficult, mainly if you work all by yourself, which is subtitles. Recording everything and then listening to it again to add captions is plenty of work to be done alone. It requires a lot of time and effort to write and compile all of them. To help you out with it and save you plenty of time, the Designrr Video Transcription Software comes into play.
Designrr Video Transcription
Our software is uniquely made to help you out with your audio or video files. It allows you to make instant transcripts from your audio, video, podcast, or webinar files, instead of writing the transcript yourself., instead of writing the transcript yourself.. Unlike other similar softwares, this has a relatively cheaper subscription package and can get the work done in considerably lesser time. If you are a beginner on a tight budget and want to make a career by sharing your podcasts on YouTube, this is a must-have software for you. It is affordable and very efficient and gives you multiple features, for instance,
It allows video screenshots.

It can generate automated eBooks or flipbooks.

It can include podcast highlights.

It takes screenshots of websites cited.

It allows easy export to iBooks, Kindle, and ePub.
These were just a few features it gives the users for a very affordable monthly subscription price. Therefore, make sure to check it out so it can help you provide the boost you need to be the next Podcasting Star on YouTube.
Verdict
People always claimed that "YouTube is the future." Well, if that is the case, then the future is here. YouTube is at an all-time high, and there is no sign of it losing its popularity. More and more users visit the website every single day. If you are looking for a career out of podcasting, there is no better platform than YouTube. Furthermore, the features such as "More by this channel" and "View Next" can further help in retaining your audience. With 1.8 billion monthly users and 73 million active podcast listeners, there is no better way to reach a broad audience than from YouTube.
In a nutshell, making a career out of podcasts was never this easy, thanks to YouTube.