Poor grammar can kill sales. Writing an ebook or turning your (Youtube videos) video-to-text or (Podcast) audio-to-text transcription using automated transcription software without proper proofreading can turn your audience away. They can lose their focus, or if there are too many errors, they'll find someone else who did a better job. Either way, you most likely end up with people can tolerate your errors, and that's not what you want to do, right?
Approximately 42.5% of people are influenced by grammar.
Usability.gov wrote an article outlining credibility factors, and one of their main points was avoiding poor grammar. They mentioned that most credibility factors were judged quickly, based on first impressions. As they put it, "the first credibility cues are perceived very quickly."
Just like how video editing can help or break your views, transcription is no different. The first impression goes a long way, don't give them any reasons to judge you too quickly.
When you transcribe your audio or video, there might be some grammatical, spelling errors. Some issues might be, using the word "write" instead of "right", not knowing when the sentence ends, or not showing .com to a website you mention. There are dozens of examples we can provide, but you get the idea. Transcription is not transcription unless it's been edited.
Using a proofreading tool to identify these errors can save you a lot of time.
Taking the time and steps to ensure quality and user experience while maintaining speed and effectiveness in writing is necessary.
While you can find transcript proofreading services and hire someone to verify that your transcription is perfect, you're here reading this article because you want to edit your own transcription. Whether your reasons are a budget constraint, you're a perfectionist, you hired a freelancer and want to expedite the turnaround. Use all the tools necessary, while lowering your cost to transcribe your YouTube video or your Podcast, etc.
How do you avoid grammar mistakes?
This can only be achieved through acquiring the right proof-reading tool that has a high level of accuracy, optimization, speed, reliability, and affordability. Better the tool, the better you can rely on them, or put your effort on other important things for your video or podcast.
So here it is, the top 4 proofreading software tools you can use to help with your transcription:
Grammarly
0-29.95
Freemium
4.5/5
ProWritingAid
$60/year/user
14-day trial
4.5/6
Ginger

Software

$29.96 /month
Free trial, Freemium
4/5
WhiteSmoke
$49.95+/year/user
No

Free

Trial
4/5
1. Grammarly
It is one of the leading proofreading tool used today by millions of students, bloggers, and other professional writers. The program is designed for browser and desktop. The program can auto-detect grammar and spelling errors as you work while giving you the best suggestion.
Grammarly features
Whether you are using Google Docs, Word Document, WordPress, Grammarly is pretty flexible. They provide Grammarly Web App, Browser Extension compatible with Chrome, Mozilla Firefox, Opera Mini, Safari, and Microsoft edge, and Desktop version.
You can click 'Correct with Assistant' available at the top right corner on your screen. It works by listing possible alerts pointing to your errors where you can choose the right word from the list.
The feature has the ability to correct you as you write. It does this by underlining any error in red. By clicking on the mistaken word, a possibly correct term will appear that you can apply. This video below will help to explain their capabilities.
Grammarly pricing
Grammarly is one of the most affordable proofreading tools in the market. It is also the most popular. It works wherever you write online (WordPress, Gmail, Facebook, Twitter, Tumblr, LinkedIn, and nearly anywhere else you write on the web). So you can use it for other purposes.
The browser extension and web interface and desktop app are normally available for free with limited yet satisfactory features. A premium upgrade is also available for each feature that enables you to unlock all advanced features such as plagiarism checker, vocabulary suggestions, advanced sentence checker, punctuation, grammar, context and custom suggestions suiting your work genre.
The premium plans for Grammarly costs $29.95/month for a monthly subscription or $11.66/month for an annual subscription. Click here to start using Grammarly.
Pros
Free version available
It is effective and reliable for quality grammar
Easy to use
It is light-weighted
Cons
It needs to be used with care especially

browser

extension to avoid applying word suggestions that are irrelevant to the context
Its premium plan is relatively expensive for short term use
2. ProWritingAid
It is one of the proofreading tools equipped with advanced features available on both free and premium plans. The tool can be perceived as one that suits serious and professional writers who really care about the quality of their work. The tool comes in two features; web editor and browser extension.
Web editor
The web application enables you to identify spelling, grammar and style issues in real time. Mistakes are underlined in different colors where blue is for grammar, red for spelling and yellow for style. More specific issues are available at the 'Real-time' button at the top.
In our proofreading tools list, this tool stands out uniquely with its ability to perform overall tone and readability improvement by suggesting style changes where necessary and all this is basically for free.
It also has the Flesch Readability Ease scoring system that evaluates and scores your content in terms of readability. Also, the editor detects any overused word that can make the content monotonous to read. These features are available at the top toolbar.
However, these features are used with a limit of 500 words for the free plan. This can be hectic for those who don't want to upgrade, but worth for it for free.
ProwritingAid for browser
In addition to web editor, you can install a browser extension in order to improve your workflow. The add-on is available in Google Chrome, Mozilla Firefox, Microsoft Word and Google Docs. However, each add-on works separately for every platform meaning you have to download and install for each. The tool has the ability to identify possible mistakes and underline them and similarly give suggestions.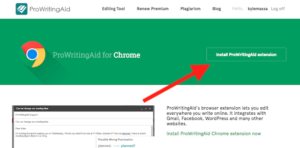 ProWritingAid pricing
As elaborated above there is a free version for both web editor and browser extension, however, you can upgrade the premium to enjoy unique features without limit. Distinctively, with the premium plan, you can enjoy these services without limit; access to the desktop app, learning resources for writing skills improvement, 50 free plagiarism checks yearly and quick reports for unlimited words count.
The premium plan will cost you $60/month annually or $210 as a one-time payment. This is a steal compare to other software where you have to pay monthly. Click here to buy the lifetime access.
Pros
Offers the best overall picture
Explains why it's an error
It has a high accuracy level
Value for money
It is easy to use and makes your editing work easier
One time purchase

Google

docs compatible
Cons
It is expensive compared to many others in the proofreading tools list
3. Ginger software
An affordable yet effective tool that helps you deliver high-quality content. It has an optimization that detects possible spelling and grammar errors and offers contextual words definitions with alternative words suggestions that makes your text unique. It is available for windows and browser specifically in chrome and Safari , however, it is not compatible with Mac OS desktop.
Ginger Software for Chrome and Safari
It is similar to Grammarly in that, it helps you make grammar and spelling error corrections on the fly. However, the difference comes where with Ginger, a new mini-window pops up for corrections unlike the usual in-text editing within the site interface. Uniquely, you can add several Ginger user accounts with yours to form a team. Additionally, the tool has 40 different languages that you can choose from even on the free version. This language diversity can be beneficial for foreign exchange and traveling professional writers.
Ginger Software for Windows
The desktop app for Windows has features such as :
Personal trainer– it lets you perform essentially customized tests that let you practice and improve your writing skills.
Text reader– it loudly reads your

text

which enables you to determine whether your

content

sounds natural when spoken in native English.
Ginger Software pricing
The tool is available for both free and premium versions. With the free version, there are limited features which can be unlocked with a premium upgrade.
These include:
access to the text reader
personal trainer
advanced mistake analysis
and unlimited grammar checks
The monthly price starts at $29.96 and $4.99/month annually.
Pros
Affordable
Essential personalized features
High accuracy and efficiency level
Built-in dictionary
Automatic translator
Cons
Time-consuming opening new mini-window for error checker
Limited compatibility since not available in Mac Os
Not compatible with

Google

Docs
Doesn't offer much big-picture feedback on

writing

Premium

version

charges a monthly fee
4. WhiteSmoke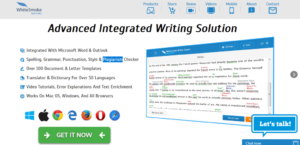 It is the only platform in the proofreading tools list in this article that does not have a free version. However, this is replaced by a limited checker of up to 250 words at a time.
The tool is available for Desktop and browser extension with compatibility with both Windows and Mac OS.
WhiteSmoke for browsers
It is compatible with all browsers. The base plan offers three main tools which include grammar checker, translator and plagiarism checker. The tool has the ability to check for spelling and grammar errors but uniquely, it shows the correct word suggestion once you click on 'Check Text'.
It shows detailed explanation allowing you to improve on your writing skills. This is beneficial in ensuring you significantly reduce your reliability of proofreading software by acquiring own knowledge.
WhiteSmoke desktop application
If you test the browser extension and it feels good for you, then the desktop app could be your next favorite tool that you need to spend a few extra dollars on. The desktop feature can be added into your Microsoft word and assist you to have zero plagiarism work while getting explanations for your mistakes.
WhiteSmoke pricing
As we mentioned that this tool is not available for free, it's the premium plan is quite beneficial with advanced features such as; Microsoft integration, premium app for desktop both in Mac & Windows and 3 computer license for a business plan. The benefit in price is that it is the most inexpensive tool. It costs only $49.95/yea and up to $137.94/month for business users.
Pros
Affordable
Wide compatibility with different devices
Interactive giving you explanations on your errors
Effective and accurate
Cons
It has no

free

plan

and proper trial

plan

before the upgrade
Conclusion
Proofreading is essential for any bloggers, transcribers, video marketers. However, you need to make the right choice based on your writing.
For example, among these four in the proofreading tools list you need to choose:
Grammarly-fit for students, bloggers and other professionals who perform online

writing

on the

browser

.
WhiteSmoke-for professional writers who rely on

Microsoft word

.
ProWritingAid-high caliber proofreading needs.
Ginger-for

writing

teams such as authors, non-professional writers who need translation and beginners.
Obviously, these are not the only examples. Explore their freemium version and see which proofreading software is the best option for your needs. Or use all of the software listed here. If you need help with your transcriptions then contact Designrr today to see how they can help you!