What is gated content?
A media that is placed behind a lead capture form is called gated content. The user is required to provide personal information to access the content. Many sites require people to fill contact phone numbers, email, or fill simple questions. You get gated content on online materials like articles, videos, and whitepapers.
Ungated content is presented to the user upon request. Users can sign up or provide data for incentive. Users can access data without necessarily providing any information.
Gated content acquires user information that helps in lead generation. People hardly find the content as Google doesn't crawl content that is behind the wall. According to David Meerman Scott, ungated content is usually downloaded 20-50 times than gated content in content marketing.
Gated content in lead generation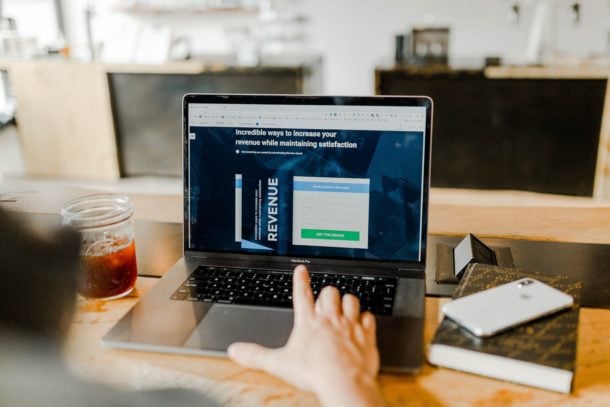 About 80% of B2B marketing assets are gated. The personal information collected provides prospects for lead generation. Even though gated content is a powerful tool for lead generation, it is not the best strategy for maximizing the number of times your ebooks and reports are viewed. Gated content will reduce the rate of your ebook download, as many customers are not comfortable sharing their info to get what you offer.
Ungated content allows visitors to access your resources without filling forms or providing any info. Examples of ungated content are videos, blogs, case studies, etc. Ungated content removes all barriers to valuable info, which increases lead generation and views. Ensure that you use contact capture.
When and why marketers use gated content and ungated content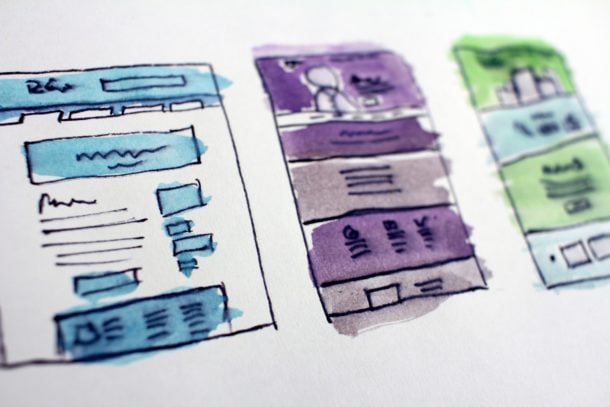 Businesses must keep generating leads to increase brand awareness. Marketers must evaluate content to determine whether they will add gates to their content. The strategy must generate leads and also boost views on your content. Use gates in your marketing funnel where applicable. Use these three stages in your marketing funnel, and they will be helpful.
The awareness stage–meet prospects with problems but don't know much about your business. Use content like blogs, infographics, podcasts, ebooks, and white papers.
The consideration stage–in this stage, prospects know something about your business and see it as a potential solution to their problem. Use content like webinars, software downloads, and case studies.
The decision stage–the potential buyer determines whether your products and services satisfy their needs. Use compelling offers like consultations, free trials, and product demos.
Do not use gated content in the awareness stage as customers know very little about your brand. That will improve your brand's visibility and enhance the credibility of your prospects. Use gates as you move down the funnel as they have gained more interest in your business.
Let's see how companies use forms to generate leads.
Examples of gated content
You can use downloadable content like ebooks and whitepapers. Also, non-downloadable content like product demos, price quotes, and free consultations.
Braze
Visitors must complete a 5-field form to access their mobile marketing ebook. They get more prospect info, but it is a long barrier to entry as well.
Pardot
Pardot has a post-click landing page designed to persuade visitors to download their marketing automation white paper. Customer logos of other major brands that use Pardot help convince the prospects to convert near CTA. It can be made better by removing the link on the Pardot logo.
Keap
Here, you get product demos when you complete the form below. They kept the form short to minimize the barrier and increase the number of leads that are nurtured into sales.
Oracle
Oracle has a post-click landing page where only the email address appears. Upon proceeding, customers find the 11-field form to fill. The large form is presented after clients have an interest in Oracle.
Examples of ungated content
Ungated content is majorly used to create brand awareness and trust with prospects. Once prospects have trust in your ungated content, they are likely to give their contact info or request a demo. Ungated content does not collect personal info. It works well for SEO, and it will help you rank higher in search engines.
Here are a few major brands known for ungated content marketing:
Salesforce
Salesforce uses blog content. The CTA button is invisible, and one does not have to fill forms or click it to access the blog content.
Neil Patel
Neil Patel is known to use infographics because compel to teach their blog readers visually. You can access infographics on their site without filling any forms. He's known to provide high-quality blogs and visuals, so when he does sell one of his services, people trust him and his software.
Amazon Web Services
Image source Amazon Web Services
AWS uses case studies to explain how their cloud technology has solved problems for known clients. Their ungated content helps prospects to come with a positive view of understanding AWS.
Readers need to click to get more details about individual case studies.
Instapage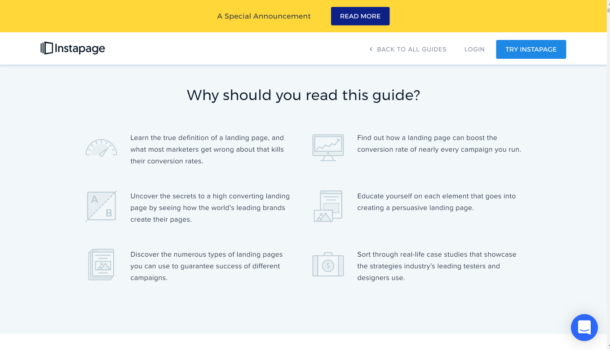 There is an abundance of content types to use for ungated marketing. Using post-click landing pages has proven its effectiveness in their marketing. These are in-depth resources that provide digital marketers with valuable information on specific topics that build trust in brands and increase views.
Businesses must understand that not all content needs to be gated to become useful. However, the content must be helpful to the reader, so they will consider becoming customers at one time in the future.
How to post-click landing pages affect lead generation
Ensure your post-click landing pages have compelling content like headlines, testimonials, and customer logos to help you increase the number of leads. You can highlight major brands and place them near CTA to influence your readers.
Avoid using long forms on the post-click landing pages, especially in the early marketing funnel. It scares away your prospects.
Here are helpful tips on how to impact lead generation:
ActiveCampaign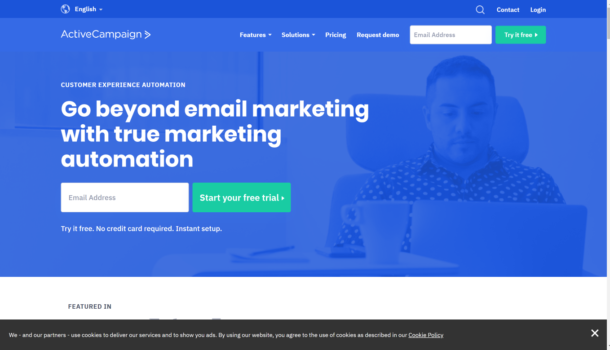 They use a post-click landing page that requires one field only, company name and email address. The few fields encourage people to sign up for their free trial.
SugarCRM
They use a smart technique for their post-click landing page. They use a two-step opt-in form instead of a long-form at a glance. Upon clicking the CTA, the prospect is required to fill the eight-field form to access the ebook. These many forms reduce the number of leads that SugarCRM gets from this page.
Determine the best number of form fields by conducting an A/B test to get the most suitable length for lead generation.
Pros and cons of gating content
Gating content is primarily used for lead generation, which is nurtured down the marketing funnel. It is also valuable where content is too valuable to give for free. Sometimes, you want to give your content to interested parties only.
However, positioning your content behind a form means it won't be seen as much. Therefore, your ungated content is likely to spread more than your gated ebook. Ungated content might not get you leads but improves your brand's visibility and builds great trust with your prospects. It boosts your SEO and web traffic as well.
How to gate high-quality content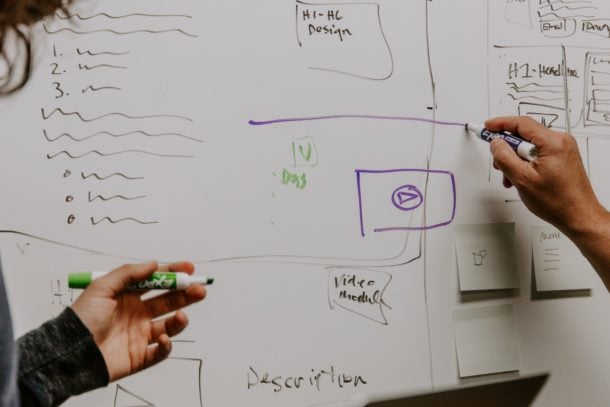 Understand your audience better – study your audience, find out their needs, and deliver the solutions they need.
Forge a trusting relationship – provide adequate info about your brand to make it trustworthy and authoritative to your brand.
Streamline your sales process – reach out to those who access your gated information because you have their contacts and email addresses.
Drawbacks of gating content
You might reach a limited audience – it is challenging to reach the majority of your audience by filling a gated form unless you have a serious budget in place.
It is hard to earn links – your audience will avoid linking to pages that have landing pages. Others are not ready to give up their personal information to another brand.
Some readers might be turned away – targeting customers with gated content at the wrong stage will discourage them. It makes them lose trust and build wrong perceptions about your brand.
How to decide if you need to gate your content
Ask yourself the following questions before determining to gate your content or not:
What is your objective – use ungated content for brand awareness and gated content for lead generation.
Do your competitors offer this content ungated? If they do not use gates, you must not use one as well.
Is the value of your content worth to be gated? – provide high-value content before gating your content.
What info do you need to produce a quality lead – a long-form collects all the info but reduces chances of leads and vice versa.
How will your business use gated content?
Your business must find a balance between using gated and ungated content. Avoid gating content in the early marketing funnel. Use ungated at the top and gated at the middle and bottom. That increases your visibility at the top and generate leads in the middle and bottom of the funnel.
For both gated and ungated, use the impression of an Instapage with a customizable post-click landing page.
How is gated content used?
When implemented effectively, gated content will bring many leads to your site without affecting the traffic flow to your site. You can use the Vertical Measures with Hub & Spoke content marketing strategy
The Hub & Spoke Model
In this model, you must and produce the hub (main content) and create the spokes (several small pieces of the content) which relate to the original content.
You generate the hub behind a lead capture form to get high-quality value from your audience. Place a high-value content that that will make the prospect trade their email. The spokes are designed to drive all the traffic to the hub.
Conclusion: When do I need to implement gated content?
Based on the Hub & Spoke model, ensure that you understand your client's customer journey. The customer's journey will help you provide the content that the customer is looking for at a specific stage. When you deliver high-quality content, you build more trust and persuade your customers to provide their info leading to increased conversion rates.